CURATED AMENITIES. MASTER-PLANNED.
An enhanced multi-level amenity platform
T3 Bayside takes the loft-style office and turns it up a notch. Spaces are designed for optimal collaboration. Common social areas abound, fostering a greater sense of camaraderie and community. A fully modern fitness facility keeps your people in work-life balance. And your team and clients alike will relish the sights, sounds and tastes to be found on the stunning rooftop deck.

Whatever it takes to help you recruit and retain the finest, T3 Bayside will empower them to do their greatest work yet.
A STATEMENT ROOF TOP
A stunning 360-degree rooftop overlooks gorgeous sightlines of the lake and city.

Perimeter walkways connect to a rooftop bar surrounded by a lush green roof and vine wall creating a communal, social atmosphere.

A wealth of seating options — inviting couches that stimulate collaboration and teamwork; benches along the perimeter for uninterrupted views of the thriving neighbourhood below; and relaxed private seating options — help draw your focus and let your creativity flow.
SIGNATURE DOUBLE-HEIGHT AMENITY SPACES
Sun-soaked double-height amenities on the second and third floors, framed by open and interconnected staircases extend the workplace with creative, communal spaces.

Premium Tenant Lounge – A premier lounge rooted in wellness. Expansive timber connects tenants to nature, while sunlight fills the space with warm, natural light. Tenants can work privately, meet with clients or hold refreshing team meetings — fostering a greater sense of camaraderie and community.

Flexible Collaborative Space – A modern floor-to-ceiling glass curtain wall creates a sunlight-filled space in the dedicated tenant conference centre. With presentation-ready technologies and bench seating, tenants are always prepared for virtual conferences, townhalls, team summits, or hosted events.
ENHANCED WORK/LIFE BALANCE
Fully modern fitness facilities help keep tenants in work-life balance. Dedicated fitness and cycle areas feature a sunlight-filled, at-grade bike locker room and club quality change rooms — all accessible via a tenant-only entrance located directly across from the Martin Goodman Trail.
SPACIOUS LOBBY & FEATURE COFFEE BAR
Step into the striking lobby, where timber and glass frames a spacious open atrium alight with engaging conversation. Entrance ways lead to vibrant outdoor space with unobstructed views of the water, to the retail plaza and to Queens Quay East with future-planned LRT.

A bright and inviting in-lobby coffee bar offers tenants an energetic space to socialize during the day, increasing spontaneous conversations and collaboration.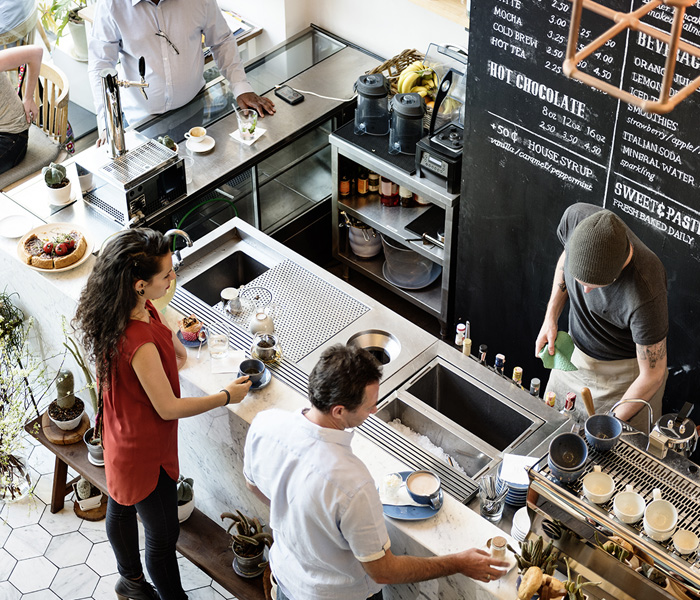 DOUBLE-HEIGHT OFFICE FLOOR OPPORTUNITIES
Unique double-height office floor opportunities allow tenants to craft and shape their office environment with generous and expansive ceiling heights.
UNPARALLELED ACCESS
Exclusive to T3 Bayside, a dedicated, private Union Station transportation service connects employees to Toronto's largest transit hub with connections to the TTC, GO Transit, LRT, UP Express, and VIA Rail.

For a healthier commute, the Martin Goodman Trail is adjacent to the T3 Bayside with indoor and outdoor bike stalls available.

Skip the downtown congestion with direct access to the DVP and Gardiner Expressway, along with ample car and EV-ready parking facilities.